IPEC introduces the economical range of Chest freezers : LEBFROST.  This freezer perfectly suits the totality of food products ranging from sushi boxes, pizza dough, chicken and meat strips to frozen vegetable storage.
It can be placed in the majority of food business types like bakeries, pastries, restaurants, bars, communities and cafeterias.
As shown in the technical features, it posses the characteristic of having a low electricity consumption, spacious interior, innovative look and competitive price.
Technical features:
Single Top Door Chest Freezer
Model: BD -358
Capability: 358L
Product Size: 1270*660*844(mm)
Packing Size: 1310*704*875 (mm)
G.W/N.W:55/50kgs
Power Source: 220-240V/50HZ
Refrigerant: R134a
Temp.range : ≤-18oC
Handle: Yes    Lock: Yes
Wheel& Drainage: Yes
Light:Optional Inner Glass Door : Optional
Condenser (Optional):    Inside or Outside
Description & Features: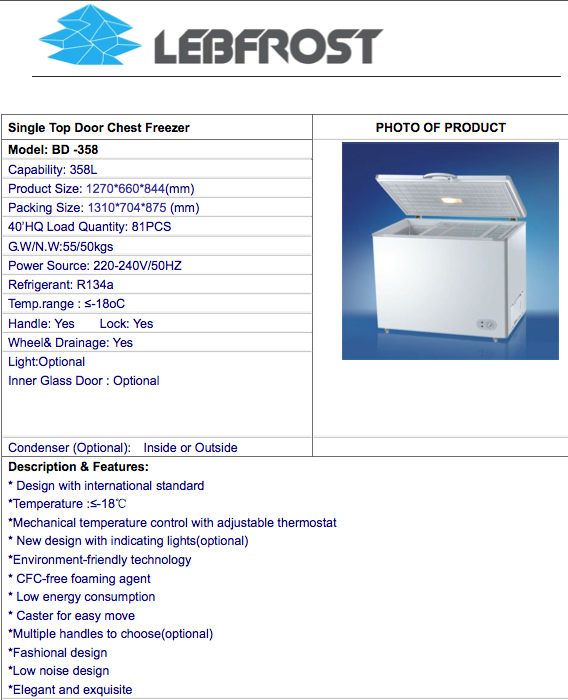 * Design with international standard *Temperature :≤-18°C
*Mechanical temperature control with adjustable thermostat
* New design with indicating lights(optional)
*Environment-friendly technology
* CFC-free foaming agent * Low energy consumption
* Caster for easy move
*Multiple handles
*Low noise design
*Elegant and exquisite design